Breeding for

Type - Soundness - ​Temperament
Greesons N Yabig's Groove is in the Heart aka"Groove"

We're so excited to announce she gave us 15 Beautiful Puppies that arrived October 26, 2020
Groove is our gorgeous girl out of our
AKC Grand Champion Toba X Sweetie breeding. She is everything a Mastiff should be, big, sweet with beautiful Mastiff "type". She's also show pointed and her littermate was awarded at the 2020 Westminster Kennel Club Dog Show as Grand Champion Select Winner! Due to such a big litter, we have limited availability still in time for Christmas. Puppies Ready to go as of December 22, 2020. Contact Us

"Mr. Big" Undefeated AKC Champion is the sire to these amazing puppies
Ch. Greesons Even Mo Betta "Mr. Big"
Born June 28th, 2004.
Bred by Linda Greeson
Eyes - PRA N/N by parentage
Hips - OFA Good - MF-6711G25M-PI
Elbows - OFA Normal - MF-EL3448M25-PI
Cardiac - OFA Normal - MF-CA1233/25M/P-PI
Patellas - OFA Normal - MF-PA1328/25M/P-PI
Thyroid - OFA Normal - MF-TH710/25M-PI
vWb - Normal 107%
Championed Aug. 26th, 2006 - 11 consecutive shows, undefeated in 25 days.
Multiple Breed wins over top ranked specials
Ch. Yabigs Darling Dayna MM73
All Puppies are in their forever homes!
Champion Yabigs Darling Dayna MM73 has been bred to Greesons Earth Shakin Eddie. Puppies were born November 1, 2018. See pics below! Please inquire for waiting list options. Contact Us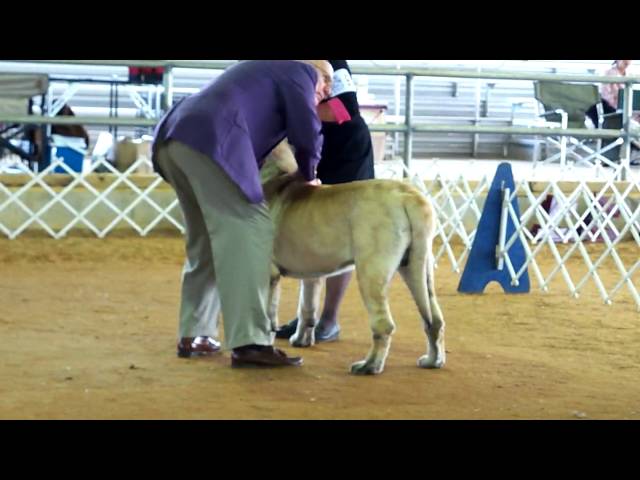 Greesons Earth Shakin Eddie being shown by Maria Devier at 15 months old
This boy not only has the bone and the size, but he sure can MOVE it MOVE it! Very excited about pairing him up with our beauty Ch. Yabigs Darling Dayna MM73.
Puppy Pictures - 7 BIG beautiful healthy babies 5 girls 2 boys
Greesons Night Witch aka "Sweetie"
Puppies Due Late December 2017
Sweetie was bred to our GCh. Yabigs Toba the Eruption MM73. They both share outstanding dogs in their background. We are so excited to see the gorgeous puppies they are sure to produce! For more information please contact us here or Linda Greeson Rice at
Click Here to Add a Title
Breedings are done with very careful consideration to produce puppies of superior quality. Our dogs are genetically screened and health tested for common breed anomolies such as hip dysplasia, cardiac, thyroid and eye issues such as PRA and CRM1 prior to breeding to help ensure soundness and the quality we strive for.

Puppies leave for their new homes no earlier than 8 weeks of age. These babies come ready to plug right in to your family as we spend a great deal of time socializing and pre-training your puppy, but it is up to you and your family to continue the work we started. Not only do the puppies get to see lots of faces young and old, along with other dogs, cats, rabbits, goats, chickens and horses, we introduce early crate training by placing a crate within their play area for them to snooze in at will, so your puppy will have a BIG head start in becoming the furry family member of your dreams.

In addition, puppies come with a Vet signed certified health certificate (not just a Vet check), AKC papers, health guarantee via contract, first set of shots, Free microchip, at least 3 wormings and a puppy packet containing care instructions, important information, Pedigree, etc. You also get us for the life of the puppy to advise on anything you need, whether it's 2 weeks or 14 years after the sale.
Please note that a signed Sales Contract is Required.
Puppies are priced at 2500-3500. A 500 deposit is required to hold a puppy for you. Should we end up not having the color and sex you requested, deposit is fully refundable. Deposit is not refundable if customer changes their mind or encounters a situation where they feel they are not able to acquire a puppy from the litter reserved, including, but not limited to family emergencies, accidents, relationship status change, etc..
Deposit can however be moved on to another breeding.
We will be happy to consider you as a permanent home for any upcoming breeding that interests you.
Please direct all inquiries to: [email protected]
Ch. Yabig's Darling Dayna "Dayna" X Ch. Yabig's Jackpot "Jack"

FALL 2016 - PREGNANCY CONFIRMED!!! Puppies are due December 15, 2016
Expecting Fawns and Brindles
ALL PUPPIES ARE IN THERE FUREVER HOMES NOW.
In addition to being an AKC Champion of record, Dayna is also almost finished with her Grand Champion Title. She lives up to her name in temperament and has bone and structure not often seen on a female. She is very "correct", typey and just plain massive. Dayna is often thought to be a male - even a couple of judges had to double check! Dayna comes from a long line of champions as well as Hall of Fame winners. We've been anxiously anticipating adding a Dayna puppy to our household.
Jack set the show world on fire taking win after win including 3 majors all from the puppy classes finishing at just 10 months old. He has a beautiful head and lovely angulation. He too has an outstanding pedigree that also holds some pretty impressive Brazillian imports among it. All this and he can claim to be the littermate brother to "Kali" Ch Yabig's First Lady of Bolo who is currently the number 1 Mastiff in all of Canada. A position she has held for the majority of the 2016! Jack is pictured above at 6 months and 13 months of age and continues to mature beautifully. New pics coming soon!
Pedigrees of Parents - Click on Thumbnail to bring up full view
Born May 22, 2015 - 4 Girls, 3 Boys Apricots and Fawns
"MooMoo" X "Jane"
Greesons Now Waay Mo Betta of Chaputepek X Yabigs Addiction of Stone Horse
ARRIVED March 31, 2014.
3 Boys 4 Girls Fawn and Brindles.
Yabig's Spot-On X Greesons MM47 Yabig's She's Playin' Yabig Time
Here's what we've been working on
Greesons Rogue Angel X Yabig's Addiction of Stone Horse
Born January 26, 2012
13 GORGEOUS puppies. 7 Boys 6 Girls All Colors
Here's what we've been working on
16 BEAUTIFUL Sandy Paws and Mr. Big puppies were born May 27, 2008. 8 boys 8 girls
Ch. Greesons Even Mo Betta X Greesons Sandy Paws
Here's what we've been working on
/